Rainbow chard recipe
June 6, 2012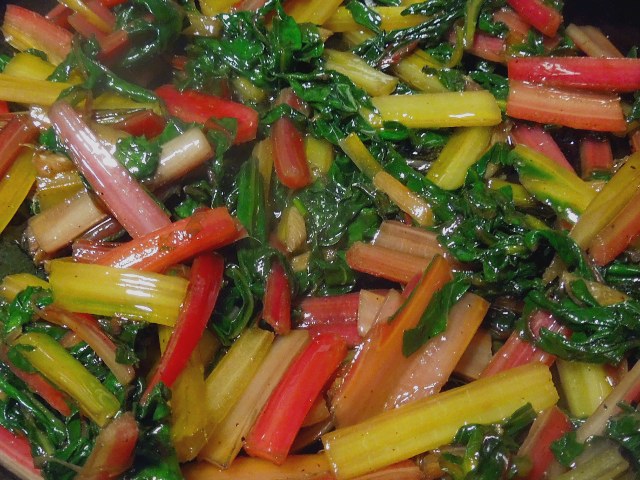 Based on this recipe
1-2 lbs chard, thick stems discarded inner ribs cut to 2-inch lengths, leaves cut to 2-inch ribbons
4 tbsp extra virgin olive oil
2 garlic cloves, thinly sliced
1/4 tsp finely grated lemon zest
In a large pot, heat 3 tbsp olive oil. Stir in garlic and cook over medium-hot flame about 1 minute or until lightly golden. Add chard leaves in large handfuls, letting each batch wilt slightly before adding more. Add salt and pepper and cook, stirring, until leaves are softened and most liquid has evaporated — about 8 min. Transfer chard to a bowl. Wipe out pot.
Add 1 tbsp olive oil to the pot. Add chard ribs and cook over medium-high heat, stirring occasionally, until crisp — about 5 min. Stir in wilted chard leaves and add salt and pepper again. Transfer to bowl, sprinkle with lemon zest and serve.
Notes: I'd use more lemon zest and less oil and salt next time. The lemon zest wasn't readily apparent, while the oil (measured) and salt (eyeballed) turned out overbearing. It was good, though, and tasted like a Spanish tapa — very rich.