Hiking Vargas Plateau by transit
March 29, 2022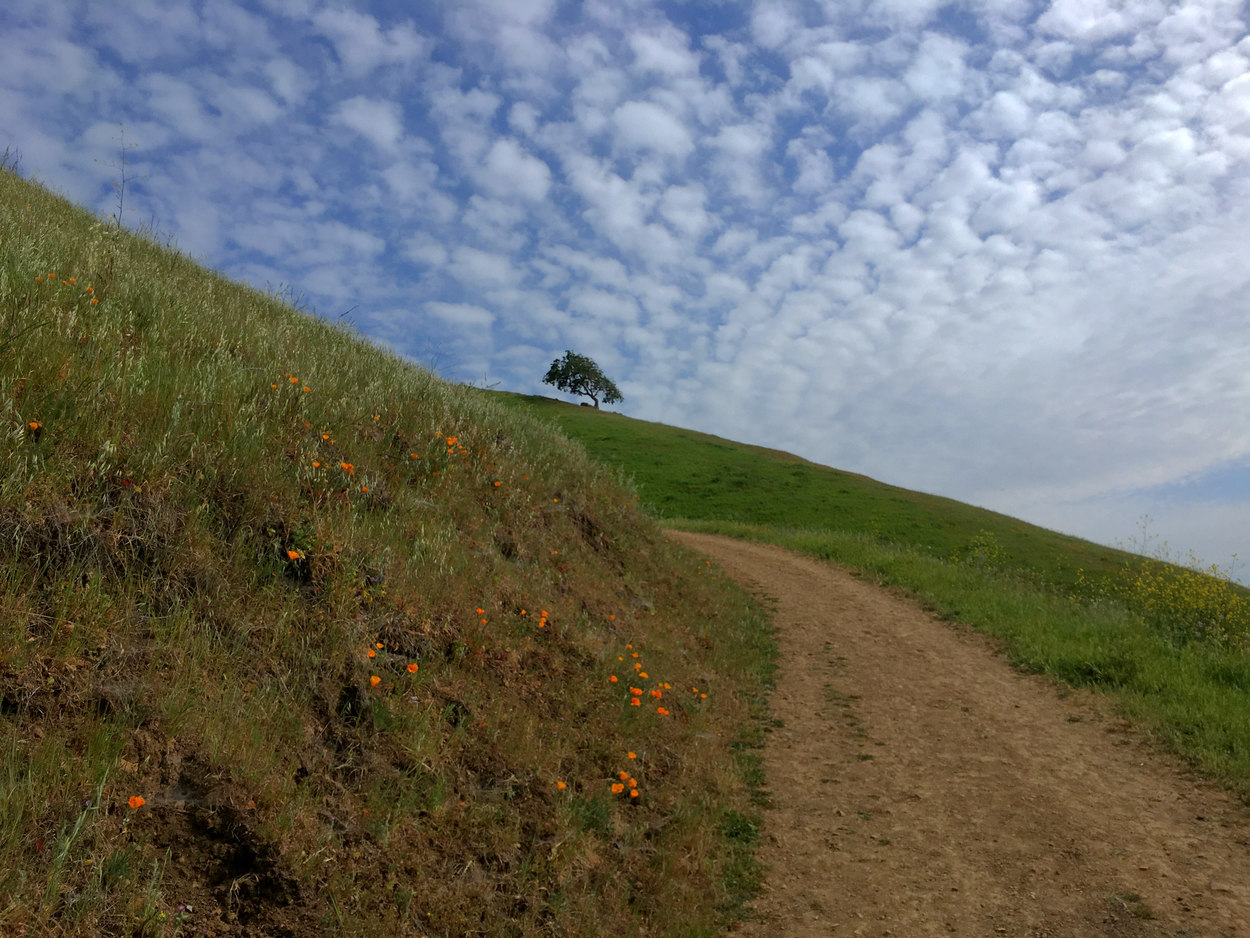 I grew up hiking and camping, with a love of the outdoors instilled at an early age. But as I learned more about climate change, and the personal car's contribution—transportation is California's largest source of greenhouse gas emissions—driving to trails began to feel wrong. There's a sad irony in knowing your car is helping destroy the very same natural environment you're headed out to see.
So I look for Bay Area hiking trails I can get to using my Clipper card, my bicycle, or both. And Vargas Plateau Regional Park is a beautiful hiking spot I've just discovered.
Here, I'll describe a 6- or 9-mile loop hike that begins with a rewarding climb. You actually can't drive to this experience, as parking is only available at Vargas Plateau's upper, east end. Non-drivers, however, may enter the park at the bottom from its southwest corner, a short bike or bus ride from Fremont BART.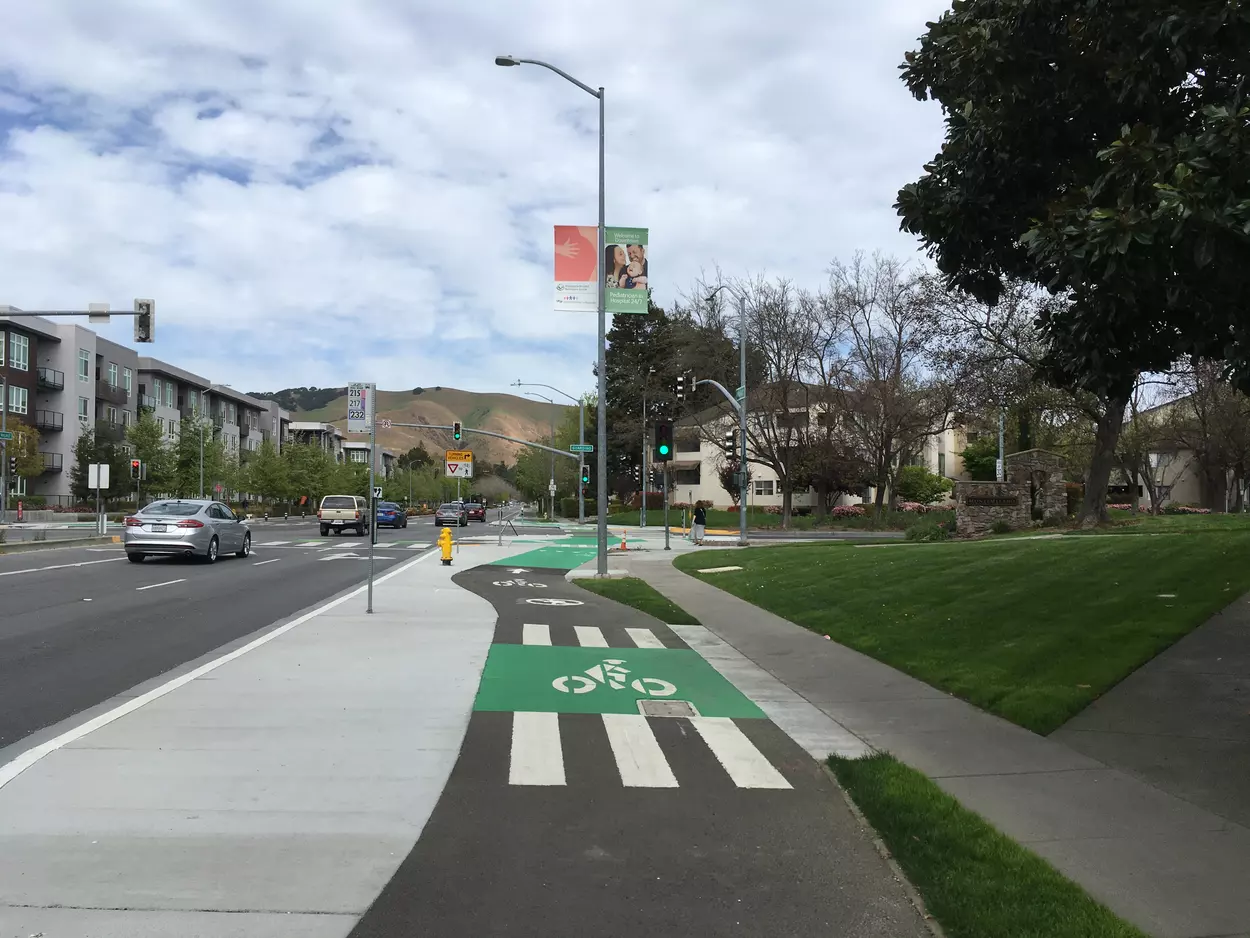 By bike: Turn left out of the Fremont BART station's parking lot, and enjoy a calm ride on Walnut Ave's sidewalk-level protected bike lane. Across Mission Blvd, Walnut becomes Morrison Canyon Rd and continues a half mile to the park. In total, the ride is 1.5 miles and flat. I didn't see a proper bike rack, but there are various sign posts you can lock to.
By bus: Transfer from BART's Fremont station to the AC Transit 217 or 232, which have a combined 3 departures per hour on weekends. Alight at the Walnut/Mission/Morrison Canyon intersection, and walk another half mile on Morrison Canyon Rd.
What to bring: Plenty of water, sunscreen, a snack, and either print out the park map or save it on your phone. (And a good book to read on BART, if you're coming from San Francisco like me.)
You've arrived when Morrison Canyon Rd narrows, at the 0.5 mile marker, and there's a big sign to share the road with bikes and pedestrians. Ahead, Morrison Canyon Rd becomes entirely car-free. That's the way we'll come back later to complete the loop, but for now, turn left and enter the Cliff Trail through the gate.
Cliff Trail ascends gradually on a ridgeline, with suburban homes below on your left, and grasses, flowers, little white butterflies, and occasional trees on the hills that rise to your right. (Some weeding might be in order: I saw many beautiful California poppies, but they seemed to be fighting for space with wild radish, an invasive.)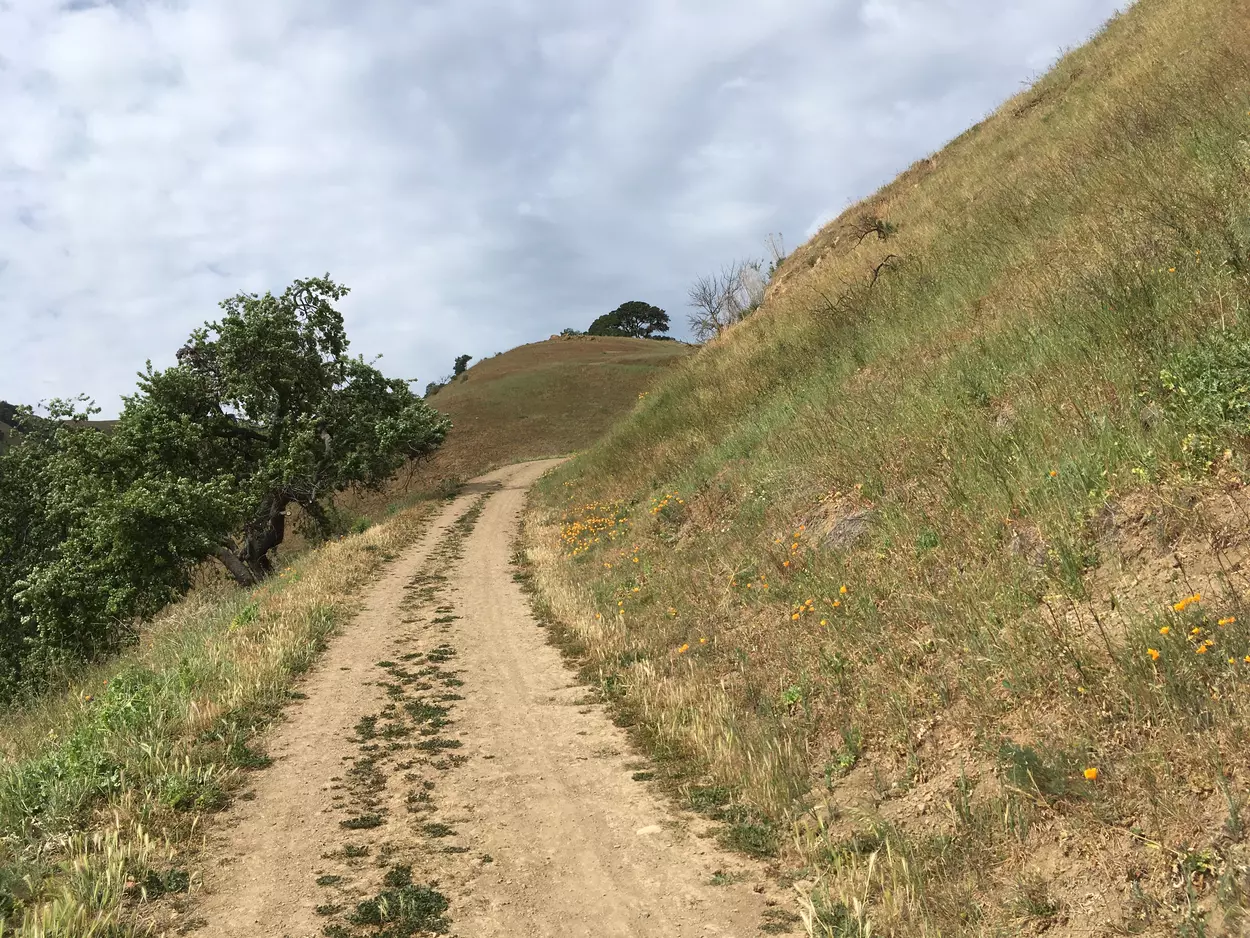 After 0.8 miles, the trail turns right and really starts to climb. The next mile is the toughest part of the hike. Hopefully you brought plenty of water. The trail ducks through a small forested area, and when it reemerges into the sun, you'll start to see sweeping views of Fremont behind you, including Alameda Creek and the Quarry Lakes.
You'll come to a junction where Deer Gulch Trail splits off to the left, a dead end1. Instead, continue straight ahead, which puts you on the other fork of Deer Gulch Trail.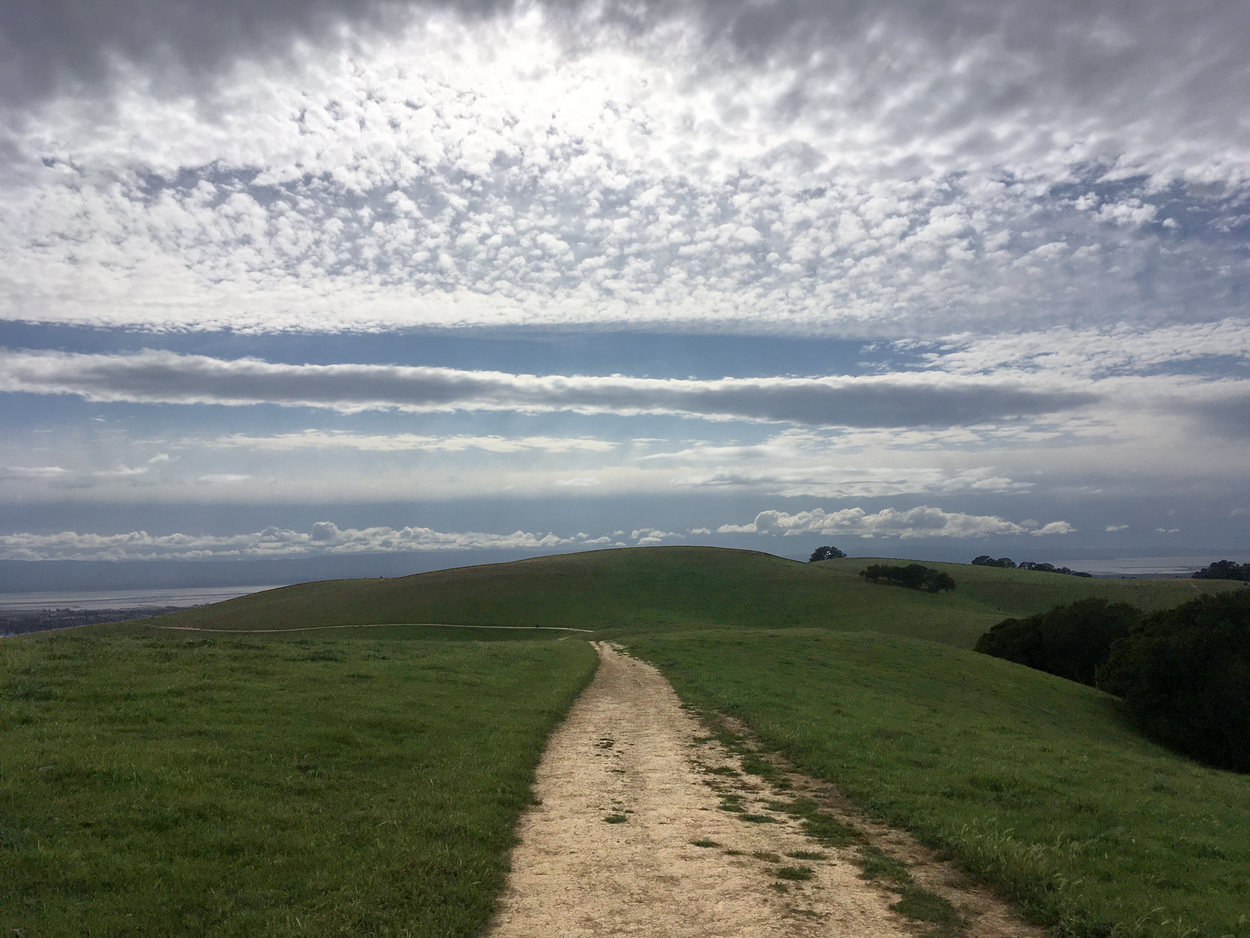 Up here, the path levels out, and the atmosphere changes. Suburbia no longer feels close by: you're now in the countryside, with rolling hills all around. You may see cattle grazing nearby.
It would be a good time to stop for a snack, but there's no place to sit. Hang in there and keep walking, passing a power line, until you come to a rocky outcrop to the right, just off the main trail. It's an excellent viewpoint and break spot.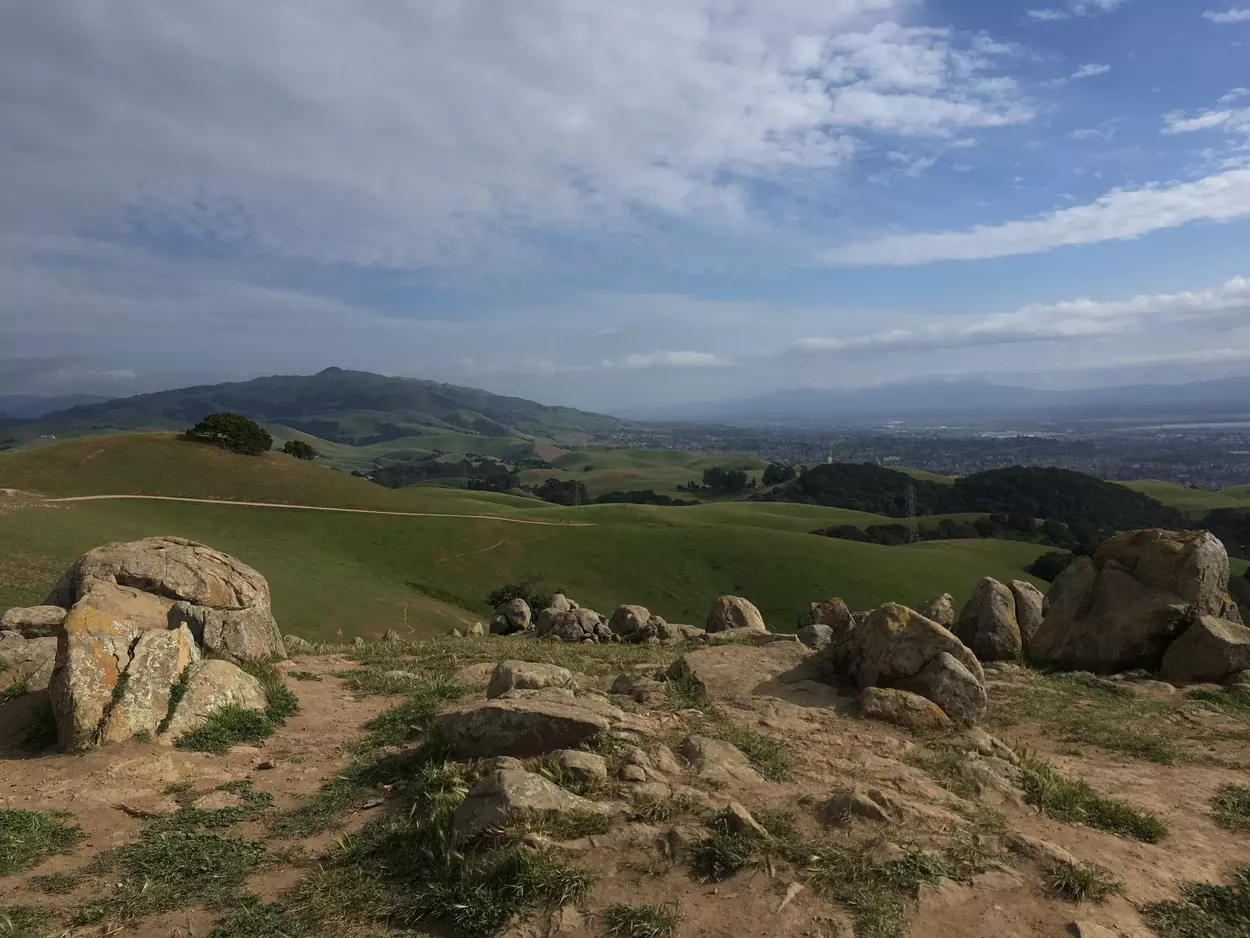 Returning to the main trail, you come to a T junction. Now's your chance to decide if you want this to be a 6-mile hike, or a 9-mile hike. If you have plenty of energy, water and sunlight remaining and want the full experience, turn left toward the Upper Ranch Trail for an optional 3-mile detour. Otherwise, continue straight on the Golden Eagle Trail.
Optional extra part: If you do Upper Ranch Trail, you'll likely see more grazing cattle on this portion, as well as more fellow hikers. While far from crowded, this section is a little more heavily used because it's close to the parking lot. I recommend keeping right as the Upper Ranch Trail forks, doing the loop counterclockwise. All around, the scenery is rolling hills, and it's blissfully quiet, with no hint that Highway 84 is close by. The trail gradually descends before curving left, passing a watering hole for cattle and a brief section of woods. On your way back, you'll pass a marker for a windswept viewpoint to your right, where a lone picnic table stands. In my opinion, this viewpoint is far from essential when you've already been to the rocky outcrop along Deer Gulch Trail. Turn left, then right to retrace your steps to the earlier T junction, and turn left on the Golden Eagle Trail.
Whether or not you did the Upper Ranch Trail, now follow Golden Eagle Trail down to the parking lot. There's a vault restroom here and printed park maps for the taking.
Walk left out of the parking lot, and turn right onto the road. You're on the upper part of Morrison Canyon Rd. Be alert, as this narrow road is shared with cars entering and exiting the park. That's only the case for 0.4 miles, however, until you come upon a road junction. Here, cars are required to turn left onto Vargas Rd toward 680. To your right, pylons block Morrison Canyon Rd, and a sign announces it's closed except to pedestrians—that's you!—and bicycles and emergency vehicles.
Turn right, and breathe easy as you descend the hike's last 1.2 miles on a surprisingly lush road-turned-trail with partial tree cover.
To return to BART, simply retrace your steps: walk or bike a half mile out to Mission Blvd; if bussing, board the 217 or 232—whichever comes first—at the stop a few hundred feet past Mission Blvd; and continue to the station, on right. As of March 2022, the last bus isn't till 10pm, so if you finished the hike during daylight, you have no need to fear missing it.
I loved this car-free hike on Vargas Plateau, and I hope you will too. More info and a downloadable map are available on the East Bay Regional Parks District's website. Get out there and enjoy!
The marker actually calls this the "Deer Gulch Loop Trail," but it's decidedly not a loop. Perhaps the ambition is to add more land to the park later, so it can become a loop eventually. ↩